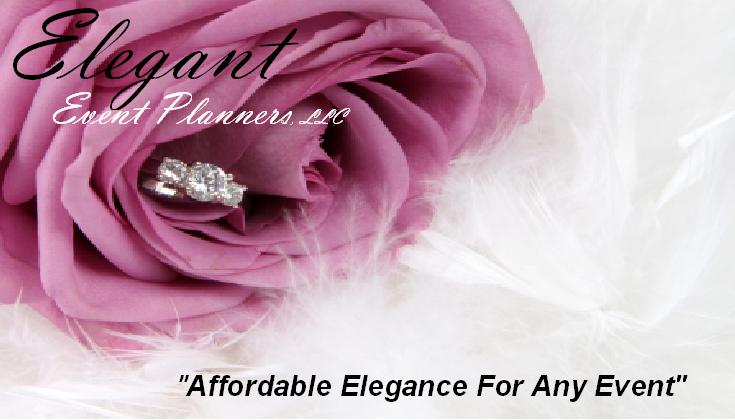 Tammy Wallingsford
PO Box 17754
Sarasota, FL 34276
941-544-1230
Email: [email protected]
 Wedding and Event Planners
When you're planning that special event,

Elegant Wedding and Event Planners

can help you to make it a memory to last a lifetime. Whether you are planning a wedding, party or corporate event, having the right planner can make all the difference. We help with vendor selection, venue and decorations…right down to picking the perfect wedding cake.  Elegant Wedding and Event Planners will help you every step of the way. We believe that elegance should be affordable. Every event, regardless of size or type, is treated with the highest level of professionalism and caring. When you want to trust your precious memories to a company that will have your best interests at heart, put your trust in…
Elegant Wedding and Event Planners
"Affordable Elegance For Any Event"

A talented event planner is a gift you give yourself…and then wonder how you ever thought you could manage without one.

Elegant Wedding and Event Planners

not only has years of coordination expertise under their belts, the right connections, and the experience to bring all your lovely details together but they love to go above and beyond for all Events and Weddings! I pride myself on providing the highest level of care and quality sophistication and will exceed your expectations! I seamlessly execute YOUR vision of YOUR day, so that you, your family, your guests and your friends can relax and enjoy the special day to the fullest. I am a valuable source of information, offering helpful tools, contacts, advice, laughs, and when needed, a sounding-board (there will be times you need to vent!). I offer as much or as little help as you need. It is your day, and I am here to make it unforgettable. Packages are customized to your personal requirements – after all, no two brides or events are the same! I match you with outstanding vendors who are pre-screened and who match your vision, budget and style perfectly. I am committed to making your wedding or event as unique and amazing as you are. Leave the rest to

Elegant Wedding and Event Planners

! My attention to each and every client from beginning to end is what my services offer no matter what your dream wedding or event entails.